Signature Skin + Facial Massage
Signature Skin + Facial Massage
Organic – Natural – 100% Pure Ingredients

Enjoy the first steps to a natural glow.  The Verage Skin Care Collection features the following products –
Verage Cleanser is a highly-effective cleanser that gently lifts dirt and makeup away, yet reaches deep into pores to purify skin.
After cleansing the skin, the dōTERRA® SPA Detoxifying Mud Mask is a natural clay mask infused with CPTG® essential oils of Myrrh, Juniper Berry, and Grapefruit that promotes purifying benefits while reducing the appearance of pores, fine lines, and wrinkles.
With an impactful blend of doTERRA essential oils and nourishing plant extracts, doTERRA Verage Toner will help tighten, tone, and smooth your skin.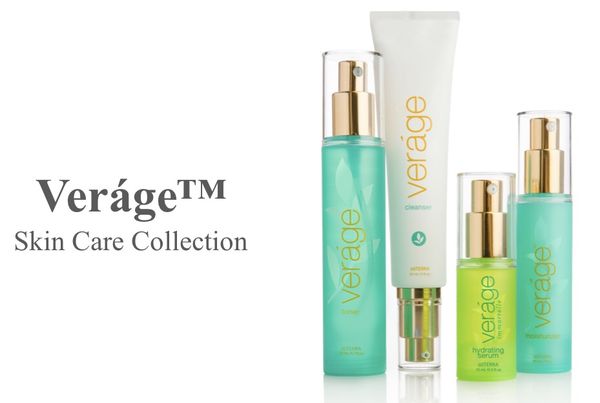 Verage Immortelle Hydrating Serum is a powerful skin product structured to promote smoother, more youthful-looking skin.
The Verage Moisturizer is a rich combination of essential oils, namely, Jasmine, Geranium, Sea Buckthorn Berry, and Juniper Berry with plant extracts, which are designed to hydrate and nourish skin while reducing appearances of fine lines and wrinkles.

Finally, combined with Fractionated Coconut Oil, Yarrow-Pom and Frankincense, complete your complimentary decolate', neck & shoulder massage.